Hepatocellular Carcinoma (HCC) is the most common cancer of the liver and the sixth most common cancer worldwide. Imaging plays a crucial role in HCC monitoring and diagnosis, as well as in clinical trials, where imaging can be used to plan therapies and evaluate response to treatment.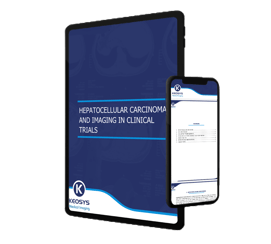 However, the asymmetrical nature of HCC lesions and coexistence of chronic liver disease or cirrhosis in many patients makes accurate evaluation of HCC tumor response a unique challenge. Various imaging modalities offer their own benefits and disadvantages in assessing HCC tumor response.
Find out more about the use of imaging to evaluate HCC in this 17-page eBook.
Download the eBook to learn:
How imaging is used to monitor liver disease, detection of HCC, and tumor response

The read criteria used to evaluate tumor response in HCC in clinical trials

The benefits and limitations of imaging modalities to assess HCC

Emerging opportunities using Selective Internal Radiation Therapy (SIRT)



Complete the form to download your copy.