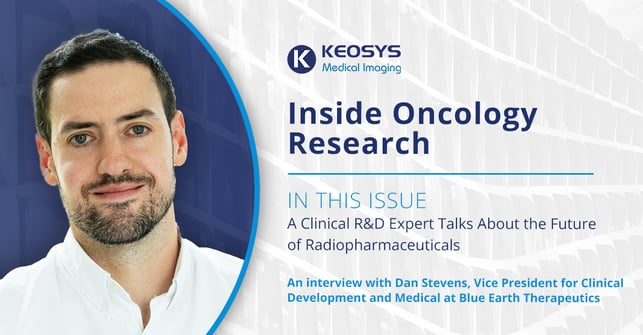 With a background in clinical research and development, UK-trained physician Dan Stevens currently serves as Vice President for Clinical Development and Medical at Blue Earth Therapeutics, one of the Bracco family of companies and a sister company to Blue Earth Diagnostics. We recently spoke with Dan about the radiopharmaceutical field and his predictions for future radiopharmaceutical therapies in oncology. The following is a selection of excerpts from our conversation.
Keosys: Can you please share a bit about your background and a general overview of the types of projects you're currently working on?
DS: I trained as a physician in the UK. After medical school, I worked as a clinical academic at the University of Oxford, researching prostate cancer. I really enjoyed the scientific aspect of the work, and then I took the opportunity to move into an industry role where I could focus on cutting-edge science and drug development and R&D projects. I've since had a series of roles working in clinical development. I started my radiopharmaceutical experience with Blue Earth Diagnostics before exploring other roles, and recently rejoined Blue Earth as Vice President for Clinical Development and Medical, part of a new team and a new company called Blue Earth Therapeutics. I work on a mixture of pre-clinical and clinical R&D projects that are focused on using radiopharmaceuticals to treat cancer.
Keosys: There has been a lot of recent interest in radiopharmaceuticals in oncology, and a number of new companies formed to investigate this technology. What role might they play in the future treatment of cancer?
DS: It's a really exciting time in the field. Radiopharmaceutical therapy has been around for a long time, but in the last five years, there's been a real influx of interest and capital to the space that's been triggered by the success of newly approved therapeutics. There's a lot of knowledge in the field of radiation therapy, but traditionally, that has been the use of external beam-based radiation treatment, which is great in certain settings. But once you have disseminated metastatic disease, you want to be able to deliver radiation to many lesions within the body. Ten years from now, we'll see radioligand therapy playing an important role within oncology.
Keosys: The field of radiopharmaceuticals is still in its early days, with radiopharmaceutical therapies often only used as a 2nd or 3rd line treatment. What are your thoughts on radiopharmaceuticals becoming a viable treatment option earlier in the patient's care journey in the future?
DS: The tradition in drug development has always been to start in patients with the fewest options, which has a good logical underpinning. However, it's also true that the best chance to have an effect or cure is through highly effective therapies earlier in the disease, when cancer lesions are less resistant. I think we will see a gradual movement of these therapies from the last line of treatment into an earlier space, but we need a cautious process with good clinical trials and clinical data. In the future, I'd expect us to see some of these therapies in the first lines of treatment.
Keosys: How do you see the role of diagnostic radiopharmaceuticals in the future oncology landscape?
DS: There are two ways of looking at diagnostic radiopharmaceuticals. There's the diagnostics, which give you inherently useful information as a standalone concept e.g., staging disease, and then where I work, in the use of diagnostic radiopharmaceuticals as a biomarker. In a way, imaging is the ultimate biomarker because you get a whole-body assessment of the expression of the target. I think we'll see diagnostics developing in parallel with the therapeutic radiopharmaceuticals, which will be an important part of the future treatment landscape.
Keosys: What are the biggest challenges in developing clinical trials in radiopharmaceuticals?
DS: The trials are often complex because they may involve two investigational products - a diagnostic radiopharmaceutical that you perform some kind of imaging with PET or SPECT, for example. You may be managing two investigational products with two regulatory obligations in terms of IND filings. Another consideration is the burden on the patient. Asking a patient to undergo lots and lots of imaging is unfortunately inevitably part of these trials, so we have to think about how to manage the patient's experience during the research. Finally, the supply chain is a challenge. The half-life of radioisotopes when shipping across international borders from manufacture to injection of the product is limited for most isotopes, and you have to manage the timing very well. There are issues with the raw materials, upstream of the manufacturing, and all of these things need to be considered. However, for each of these issues, things are rapidly improving.
Keosys: How do you manage your images in radiopharmaceutical clinical trials, and what suggestions would you share with trial teams for image management best practices?
DS: Images are the absolute key sources of data we collect, interpret, and analyze in pharmaceutical studies, and expert vendors are key to quality data. To give you an example, in just one clinical trial, you may collect PET images, CT images, MRI images, and SPECT images. These multiple formats might require multiple cameras at multiple sites. It becomes really important that the vendor understands how these trials work and how the data needs to be collected. Using vendors who know what they're doing is crucial.
Keosys: You are a member of the Faculty of Pharmaceutical Medicine in the UK. Tell us about the organization and its work.
DS: The Faculty of Pharmaceutical Medicine is a professional membership body in the UK, affiliated with the Royal College of Physicians here. It oversees a dedicated training program for physicians in pharmaceutical medicine to become board certified in pharmaceutical medicine. The organization ensures the doctors who are working in these roles have representation and opportunities to undergo continued professional development. I encourage people to look at the website and learn more. We welcome members from all over the world.
Keosys: What predictions do you have for the future of the radiopharmaceuticals market?
DS: I think we're really on the cusp of a big wave of activity. With a few more targets and a few more drugs shown to be safe and effective, that will really help to establish the field. Another area of focus is to secure the isotope supply chains so manufacturers can provide these products all over the world and educate patients and physicians on these types of radiation therapies.
Keosys: What are you most looking forward to as the field evolves?
DS: One thing that I think is quite exciting is the development of technology in terms of the imaging tools we have, like whole-body PET, which could lead to significant scientific changes in the way patients are imaged. And, of course, everyone's watching artificial intelligence - but I'm yet to be convinced about that. Let's see what happens.