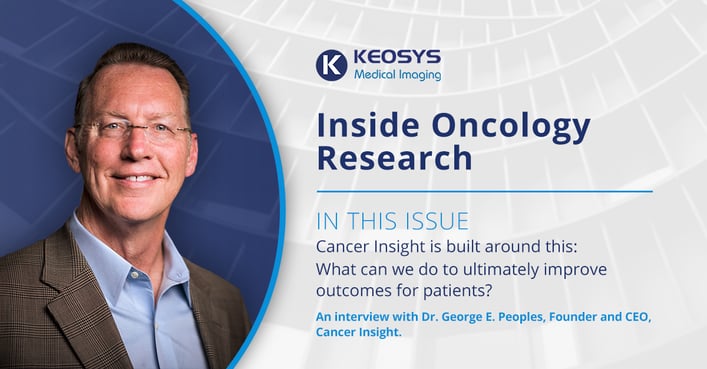 We recently spoke with George E. Peoples, M.D., founder and Chief Executive Officer of Cancer Insight, a CRO based in San Antonio, TX. He talked about his long career in medicine, his abiding interest in research, and how both led him to lead a CRO. We're pleased to share the following excerpts from our conversation.
Keosys:
You served for decades as a surgical oncologist in the military. How did that lead you to found a CRO?
Dr. Peoples:
I always had an interest in research. I became very intrigued with the concept that the immune system could fight cancer. Because of this interest, I developed an academic-based research group. I was running multi-center clinical trials years ago, in and out of the military, looking at different immunotherapeutics—specifically cancer vaccines, which have always been my focus. I started a cancer vaccine development program, developed some of our own products and tested a bunch of other folks' products. Then when I retired from the military in 2014, my colleagues and I set ourselves up as a for-profit CRO specializing in running trials in oncology.
Keosys:
You started out focused exclusively on cancer vaccines, right?
Dr. Peoples:
That was our focus in the early days, but the world evolved. Now, with the checkpoint inhibitors, immunotherapies are becoming mainstream. Now there are a lot of combination therapies. How do we use these therapeutics most effectively? Not only with unique combinations, but also by combining immunotherapies with more traditional treatment modalities. So we at Cancer Insight went from cancer vaccines, to cancer therapeutics, to combinations of cancer immunotherapeutics, and now we will do any novel therapies, most of which still will have an immunologic mechanism. We do trials on small molecule drugs, targeted agents, immune agonists, antibodies, vaccines, and we are about to start a trial on a gene therapy.
Keosys:
Do you continue to work to develop products?
Dr. Peoples:
Yes. In addition to Cancer Insight, we have our own therapeutic development company. Currently, we are working on a new vaccine platform that is histology-specific. For example, we have a breast cancer-specific vaccine and a colon cancer-specific vaccine already developed. So, if you are at particular risk of developing one of these cancers, we intend to test these vaccines as preventive agents in the near future. We have a colon cancer vaccine trial going on right now using our technology as proof-of-principle.
Keosys:
Tell us about some of your work at Cancer Insight.
Dr. Peoples:
We're engaged with about 20 companies right now. The majority of them are biotechs or small pharma companies exclusively in the cancer space and primarily interested in immunotherapeutics.
Of those 20 or so companies, about two-thirds are in clinical trials. We also work with earlier stage companies, those that are preclinical and want to become clinical. Getting your first trial going is a pretty steep climb for an early-stage company with a product and so we help with that process. We've filed about 22 INDs, either for our own products or on behalf of sponsors that we work with. We can help guide companies through that preclinical testing phase, into their pre-IND meeting, and nail down what the requirements will be from the FDA for their IND, so that they can do a smooth transition right into their first human trial.
Keosys:
Tell us about the sites you work with.
Dr. Peoples:
We have a pretty large network. We probably work with 65 or 70 sites across the country—all of the major cancer centers and a lot of the larger academic centers. Also, we work with some high-volume, community-based oncology practices. We have the capacity to run large studies. For example, we just completed a 275-patient, 25-site breast cancer trial and a 200-patient, 20-site melanoma trial.
Keosys:
What are some of the most interesting approaches to cancer that you are seeing?
Dr. Peoples:
All our sponsors have novel technologies, but my particular area of interest is in immuno therapies, and in that space, there have been many advances over a relatively short period of time: The first checkpoint inhibitor was approved in 2011 and since then we have seen a complete shift in the way we treat cancer patients. The next logical step is to make checkpoint inhibitors better. That's been explored in the form of novel combinations for the past 5 years or so. And now, we're seeing triplet trials, very unique, rational combinations of different immunotherapeutic drugs that are meant to do different things within the immune system. And of course new agents are still being developed.
Another part of this that especially interests me is where these immunotherapeutics are being tested now: Most cancer trials involve late-stage patients. That's just been the way of drug development, and it follows the adage of "First, do no harm." But that's not the right place for immunotherapies, because they require that the patients have healthy immune systems and patients with end-stage cancer have immune systems that are pretty beat up. So we are now starting to test therapies earlier in the disease stage and prior to other treatments. We are starting to see neo-adjuvant use of immunotherapeutic agents, and getting some satisfying results there regarding what you can do even ahead of surgical resection of tumors.
Keosys:
You could have retired back in 2014. Why are you still doing this?
Dr. Peoples:
As a surgical oncologist, I very much enjoyed the one-on-one interactions with patients. I found that to be very satisfying for 25 years, but to research new products—whether our own or those we're developing for others—therein lies the ability to impact a lot of patients.
Cancer Insight is built around this: What can we do to ultimately improve outcomes for patients? This is what gets me up and going every day.