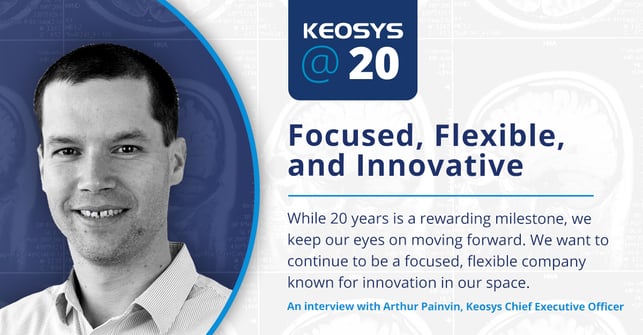 With our 20th anniversary year recently completed and a new year underway, we caught up with Arthur Painvin, Keosys Chief Executive Officer. Read on to learn what Arthur had to say about Keosys at 20, the impact of COVID-19 on the imaging CRO business, and our company's plans for 2022.
Q: What's new at Keosys this year?
AP: First of all, we are continuing to grow. In fact, we expect to increase employment by 30 percent by the end of the year. That's a result of growth with our existing customers and new customers we gained in 2021. Secondly, we are investing heavily in technology, especially working to improve our imaging platform, and we plan to finalize an artificial intelligence (AI) project by the end of the year.
Q: Can you say more about Keosys plans for AI?
AP: We've been investing in AI for the past four years. We feel AI will be a great way to support radiologists. The goal shouldn't be to replace them. Instead, AI provides an opportunity to allow radiologists a more focused approach, to be able to spend more time on interesting and complex cases. We are investing and trying to find benefits for our clients and our end users. For example, we could automate some tumor selection, we could automate the RECIST criteria, we could use AI to significantly lower variability in centralized reads. We're working to find tools that have benefits for the studies we're working on today and tomorrow.
Q: What impact, if any, has the pandemic had on business?
AP: For us at Keosys, things slowed down in March of 2020. We had a couple study cancellations, and significant delays in terms of patient recruitment. We also saw a bit of a drop in terms of proposals coming in. But since September of that year, the overall trend for the business has been very good. Especially in oncology.
Q: How is business for imaging CROs in general?
AP: We're seeing growth in in the sector as a whole. There are more and more projects for which sponsors are considering imaging. That's true for late-phase trials, but we're also seeing growing interest in using imaging in early-stage studies. Sponsors are actually centralizing images for their Phase I studies. So I think imaging as a whole will continue to grow and become more and more important as more sponsors come to understand that imaging is a key endpoint that can help them either determine or analyze efficacy— and can help small biotechs either get to the next stage in terms of clinical development or sell their assets to other parties.
Q: There has been a lot of merger activity among CROs recently. Any thoughts on that?
AP: I think the mergers are fascinating. And they provide an opportunity for smaller companies like ours to develop business with biotechs, as well as with large pharma companies, which can see that some of these larger CROs are not quite as nimble or flexible, and that can be a challenge, especially for early-stage clinical trials. That's true for both the clinical CRO space and in imaging. We at Keosys want to retain our ability to be nimble and flexible, even as we grow organically.
Q: Last year was the 20th anniversary for Keosys. What does that milestone mean to you?
AP: It demonstrates stability. We've been successful and growing for 20 years. And imaging is the only thing we've ever focused on. We have a tremendous track record. Yet, while 20 years is a rewarding milestone, we keep our eyes on moving forward. We want to continue to be a focused, flexible company known for innovation in our space. And we look forward to celebrating our 30th and 40th anniversaries as an independent, growing company in imaging.