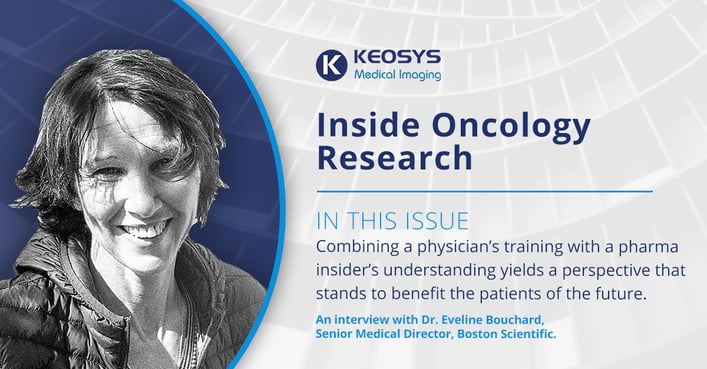 We recently spoke with Eveline Boucher, MD, Senior Medical Director for Boston Scientific, a Massachusetts-based medical device manufacturer specializing in interventional medicine. She shared some ongoing projects, how her pharma experience has changed her perspective on medicine, and where she sees the future of her field heading. It's our pleasure to share these excerpts from our conversation.
Keosys:
Would you tell us a bit about your career—how you started and how you arrived where you are now?
Dr. Boucher:
By training, I am a medical oncologist. I had been working in a comprehensive cancer center in France for 15 years, and then I decided to move to an R&D company. I stopped my work in the hospital and went to a biotech, where I was mainly in charge of doing preclinical study and phase one. I moved to BTG in 2017, and BTG was later acquired by Boston Scientific.
Keosys:
Tell us about your work at Boston Scientific.
Dr. Boucher:
Currently, I have the position of Medical Safety Director for interventional oncology. I do some medical review of regulatory documents, etc. But also, I am involved in clinical trials in oncology. There are several company-sponsored studies that are ongoing for which I am the medical monitor, and so I participate in the development of the protocol. That includes the EDC and the need for central read for imaging.
Keosys:
What are some current Boston Scientific projects you're involved in?
Dr. Boucher:
In interventional oncology, there are three kinds of company devices for ablation (RFA, microwave and cryotherapy), arterial embolization and internal radiation. There are several clinical trials ongoing with these devices. Two trials that are just starting will combine internal radiation with immunotherapy.
Keosys:
What type of cancer is under study?
Dr. Boucher:
Liver cancer, and then prostate cancer, and glioblastoma. That's for the embolics and internal radiation, and after that, there is a cryoablation system. So with the cryoablation system, there are studies in lung, renal, and prostate cancer and also development in new indications.
Keosys:
What about this work appeals to you and keeps you coming back day after day?
Dr. Boucher:
What I prefer in medicine is research, clinical research. So that's why I do that.
To treat people, day after day—I've done that, and I get bored. And I move to something else. A lot of my friends who are still in the hospital say, "Don't you miss the patients?" And I say, "No." I think it's very interesting to see a patient, speak with them, to explain, to treat. You feel useful, this is great. I have loved that. But after many years at the hospital, I wanted to do something else.
Keosys:
If there were another physician who was looking for a change of pace, is this something you would recommend?
Dr. Boucher:
Yes, absolutely. And I think that being a little bit on the frontline for six months or one year, for every doctor that should be of interest, because they will see the other side of where they could not imagine. I think that that should be a place of interest to be, even six months, to see how a pharma or device company is organized, what is the regulatory, what is the medical affairs, the pharmacovigilance, and the quality system? How is a company structured: who's doing what, why we are doing that, what are the constraints?
Keosys:
Could you tell us how your views have changed or share some things you've learned due to the pharma experience?
Dr. Boucher:
I was not thinking that it was so complicated. In hospitals, we have procedures, we have to be compliant, ethical…. I was not aware of how compliant a pharma company must be. Then I think that could be of interest for an HCP to have a knowledge of how a study is started, and how many plans you have to do, and how many SOPs you have to be compliant with.
Keosys:
What's the most exciting or interesting thing that you're hearing about clinical research in oncology right now?
Dr. Boucher:
After targeted therapy, now it has moved to the immune-oncology domain, and I think it's an open area with a lot of things which are ongoing. I don't know how many clinical trials with immunotherapy—I think it's more than 2,000—I think it's enormous. We are not an immunotherapy manufacturer; however, we have several design devices that could be of interest in association with immunotherapy.
Keosys:
Looking into the future, what do you think will be most promising, or what might patients be able to look forward to?
Dr. Boucher:
What I hope for the future is to be able to provide the appropriate treatment to the appropriate patient. Trying to tailor treatment, trying to identify more biomarkers to aid in the patient selection process in order to be more focused on the real needs of particular patients and to avoid providing the same treatment to different categories of patients who can't all benefit. And, of course, avoiding toxic treatments.
Keosys:
Any concluding words about your work?
Dr. Boucher:
I am a little bit special in the industry because I have a very long background in medicine, so I always feel like a doctor. I have switched to pharma, but most of my career has been in the hospital, so I still react like a doctor. I look to take care of patients. I enjoy bringing the medical approach to our industry's work.