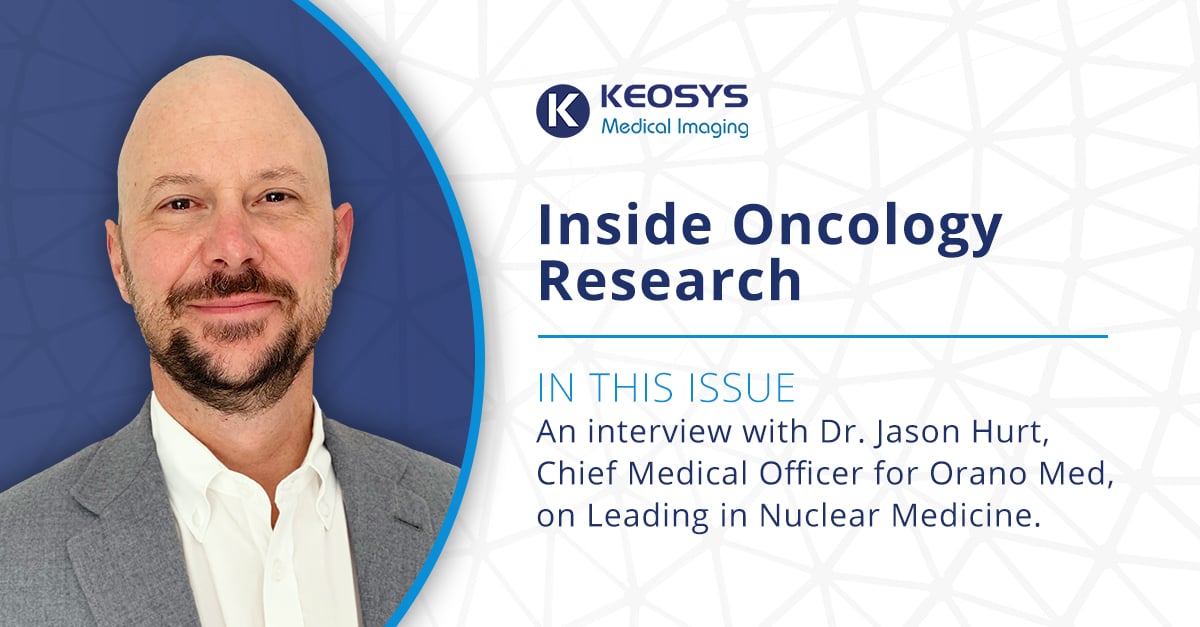 We recently spoke with Jason Hurt, MD, chief medical officer for Orano Med, a Paris-based clinical stage nuclear biotech working on lead-212-based therapies for cancers. We're delighted to share these excerpts from our conversation.
Keosys:
You were a practicing physician who left medicine to join a CRO and pursue clinical research. Why make that shift?
Dr. Hurt:
When I was practicing medicine, I was treating one patient at a time. Working in clinical research, I can help a lot of patients very quickly, more patients than I ever thought would be possible.
Keosys:
Tell us about your work at Orano Med.
Dr. Hurt:
We are working to develop a new generation of targeted therapies for cancer using the unique properties of a rare, alpha-emitting radioisotope known as lead-212 (212Pb). Our approach is called Targeted Alpha Therapy (TAT). It combines the ability of biological molecules to target cancer cells with the short-range, cell-killing capabilities of 212Pb. Orano Med's TAT has the potential to bring significant benefits for cancer patients where conventional therapies have failed.
Keosys:
Is Orano Med's lead-212 therapy unique?
Dr. Hurt:
We have a patented process by which we are able to provide almost pure lead-212. Other companies have not been able to provide lead-212 that is as pure as ours. Supply is another issue with regard to nuclear isotopes. We are in a unique position in the industry in that we have unlimited and proprietary access to our raw material source.
Keosys:
Exactly how is your lead-212 used in cancer therapy?
Dr. Hurt:
It's used to specifically target cancer cells while minimizing any impact on normal tissue. We take a biologic molecule that is targeted to the cancer cell, chelate lead-212, and then link those two together. Once the biologic molecule is delivered to the cancer cell, the lead-212 undergoes radioactive decay and releases a daughter isotope, which is called an alpha particle. The alpha particle is able to destroy the cancer cell by breaking its double-stranded DNA.
Keosys:
Where are you in your research?
Dr. Hurt:
We started our first clinical trial in 2013, at the University of Alabama in Birmingham, where we radio-labeled trastuzumab with lead-212 and treated women who had recurrent peritoneal carcinomatosis, a rare form of cancer affecting the thin membrane that surrounds the abdominal organs. That study showed us that the therapy was relatively safe—with no side effects other than what you would expect—and that it was feasible, meaning it was feasible to get lead-212 from our site to an investigator site to treat patients.
We currently have an ongoing phase 1 study with our partner RadioMedix, in patients with neuroendocrine tumors.
Keosys:
Do you have other projects underway?
Dr. Hurt:
We have partnerships with both small biotechs and large pharma companies. We are always looking for other partners who may have interesting molecules that would pair well with lead-212.
Keosys:
What particularly excites you about research in oncology today?
Dr. Hurt:
There is so much going on. A few years ago, before the immunomodulators came out, if you had melanoma, for example, there was really nothing we could do for you. Then, over the course of just three or four years, there were three medications that increased progression-free survival tremendously.
We've seen personalized medicine come to fruition, we've learned to actually rev up the body's own immune system to fight cancer, whereas the hallmark of cancer had long been its ability to evade the immune system. And we have these targeted therapies—nuclear medicine and others—that can target specific cells and minimize toxicity to other tissues. Twenty years ago, all we had was cytotoxic chemotherapy.
In the future, there will be more and more personalized therapies, therapies that are less toxic, and people with diagnoses that had previously been death sentences are going to be instead living with chronic disease.