Medical imaging is a key asset in the drug development process as it can provide efficacy evaluation and safety monitoring data needed in clinical trials for regulatory submission. In addition, imaging provides insights on the drug mechanism of action (MOA) and drug effects that can help researchers take scientifically sounded decisions.
For late phase trials, medical imaging used as an imaging biomarker can improve clinical trial efficacy and reduce the time to complete a given trial. Imaging biomarkers are now more commonly accepted by the FDA as a surrogate endpoint in traditional and accelerated approval process for new drugs and biologics. This breakthrough reduces the cost and time required for these trials and benefits patients with life threatening disease. Typically, in a fast track application process, the surrogate endpoint should "reasonably likely" predict clinical benefit so less validation of such biomarker is now required.
However, the use of imaging biomarkers as the primary endpoint implies the use of "scientific grade" imaging data and rigorous methodology and processes to handle image variability.
In earlier phase clinical trials, medical imaging also brings additional insights to decision makers about the drug action, the target accessibility and availability or the drug effect for example. This can be achieved by new imaging modalities and analysis techniques like vascularity, metabolism, microstructure, volume or signature among others.
Key Benefits of Imaging in Clinical Trials
Quicker completion of clinical trials

Cost reduction for late phase clinical trials

Faster approval for orphan disease

Insights into mechanism of action and clinical pharmacology (target accessibility)

Candidate drugs screening efficiency improvement
A good example could be the use of radiolabeled tracers like 89Zr-trastuzumab with Positron Emission Tomography (PET) equipment combined with proper analysis in HER+ breast cancer.
Use of those imaging biomarkers can bring benefits to the drug candidate selection, allow scientific based decision and demonstrate stronger evidence of drug value.
Analysis: Image Criteria for Response Assessment
Standardized imaging response criteria have emerged over the past decade to define a common way of evaluating the efficacy of a therapeutic agent in clinical trials.
Each criteria is a guideline that defines what to measure, the different response categories, the applicable thresholds, how to manage visits against endpoints, and the management of special cases during a trial.
Standards exist but are sometimes modified in order to be able to reproducibly assess responses, take into account a drug's specific mechanism of action and adapt to specific pathologies.
Some commonly used criteria are listed below:
Solid tumors: RECIST (Response Evaluation Criteria In Solid Tumors)
Lymphoma: Cheson 2007, Lugano, Deauville, 5 points scale, Delta SUVmax
Glioblastoma: MacDonald / RANO
Prostate: PCWG2 and 3
Immunotherapeutic: irRC / irRECIST
RECIST Reading Workflow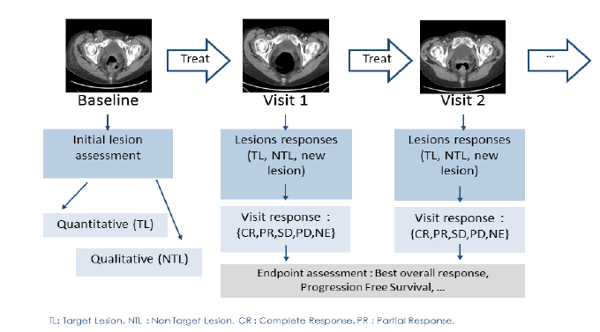 The reading workflow for these criteria starts with a baseline evaluation of the tumor burden at the first patient's visit. Typically quantitative measures are done along with a qualitative assessment of the images.
Tumor burden evolution is then measured and assessed at each subsequent visit. Eventually trial endpoints are evaluated based on individual visit responses.
Glossary
Clinical Endpoint
"A characteristic or variable that reflects how a patient feels, functions or survives." Overall Survival (OS) is an example of such an endpoint.
Surrogate Endpoint
A surrogate endpoint is a biomarker which is expected to predict clinical benefit or harm based on epidemiologic, therapeutic, pathophysiologic or other scientific evidence. If validated, a surrogate endpoint may substitute a clinical endpoint. Progression Free Survival (PFS) or Time To Progression (TTP) are examples of surrogate endpoints.
Biomarker
"A characteristic that is objectively measured and evaluated as an indicator of normal biologic processes, pathogenic processes, or pharmacologic responses to a therapeutic intervention." (NIH Definitions Working Group 2000.)
Imaging Biomarker (IB)
Imaging biomarkers (IBs) are image derived biomarkers using CT, MRI, PET or other modalities. IBs are used daily in oncology both in clinical practice for clinical staging (TNM) and response evaluation and in clinical research for drug development.