Medical imaging has been used in clinical trials to assess tumor response for 40 years. However, it wasn't until the US FDA's Modernization Act of 1997 that imaging data could be included in regulatory submissions (as a primary endpoint, and with some conditions). Then in 2004, the FDA's Critical Path Initiative recognized the need to more widely incorporate scientific advances, including advanced imaging technologies, into the drug development process. The FDA guidance on clinical trial imaging endpoints released in 2011 describes standards used today to optimize the quality of imaging data obtained in clinical trials.
The Road to RECIST
As highlighted in the FDA guidance, it's important to have standardized medical imaging criteria to capture the response of a tumor to an oncology treatment.
The World Health Organization published the first standardized tumor response criteria in 1979 and these were widely used. Nevertheless, several issues arose with the WHO criteria. These included variations in the size and number of lesions to be recorded and ambiguous definitions of progressive disease. In addition, the WHO criteria didn't take into account newer technologies such as MRI.
So in the mid-1990s, an international working party — lead by EORTC — convened, resulting in the publication of new guidelines, RECIST (Response Evaluation Criteria in Solid Tumors) in 2000. RECIST offered a model by which a combined assessment of all lesions, characterized by target lesions (to be measured) and non-target lesions, is used to extrapolate an overall response to treatment. It defined the minimum size of measurable lesions and how many lesions to follow.
In 2009, major revisions were made (resulting in RECIST 1.1), including a reduction in the number of assessed lesions, a new method to classify lymph nodes, clarifications related to a complete response (CR) or partial response (PR) and new methods for measuring disease progression. Of note, RECIST 1.1 states that the finding of a new lesion should be unequivocal (i.e. not attributable to differences in scanning technique or change in imaging modality etc.); this is important as new lesions define progressive disease. RECIST1.1 is today the gold standard for evaluating response in solid tumors.
New Treatments, New Criteria
Modified RECIST (mRECIST)
For some types of cancer, such as hepatocellular carcinoma (HCC), there is poor correlation between the clinical effects of targeted drugs like sorafenib and RECIST measurements. This is because RECIST is based upon a reduction tumor size, but targeted agents reduce tumor vascularity and cell proliferation, resulting in stabilization of tumor size of tumors despite central necrosis. Therefore, mRECIST centers upon the identification of viable lesions (using contrast-enhanced radiologic imaging) to more accurately assess treatment response.
Immunotherapies
The arrival of immunotherapies, which harness a patient's own immune system to attack cancer cells, meant that RECIST 1.1 needed re-evaluation. Their mechanism of action means that the response of a tumor to immunotherapy is often delayed. In addition, tumors sometimes appear to increase in size before shrinking – a phenomenon known as 'pseudoprogression' or 'tumor flare'.
Because RECIST 1.1 can underestimate the benefit of immune-oncology treatments, alternative response criteria have been developed:
Immune-Related Response Criteria (irRC)
These were based on the WHO criteria. Because irRC evaluated two-dimensional tumor burden, which requires more effort than one-dimensional evaluation, these criteria are rarely used today.
Immune-Related Response Evaluation Criteria in Solid Tumors (irRECIST)
These combine the features of irRC and RECIST. Unlike irRC, irRECIST requires only one-dimensional measurement and confirmation is needed to judge progressive disease (PD). These criteria are widely used in immunotherapy trials. However, irRECIST has not always been applied in the same way: for example, the definition of confirmed PD largely differs per sponsor. This has raised concerns about the comparability of results across studies.
Immune Response Evaluation Criteria in Solid Tumors (iRECIST)
These closely follow the principles of RECIST 1.1. They take into account that although some patients will experience tumor flare, the majority will not. The main difference for iRECIST is the concept of 'resetting the bar' if RECIST 1.1 progression is followed at the next assessment by tumor shrinkage. In iRECIST, the measurements of the new lesions are not incorporated into the tumor burden - which is a difference from irRECIST. iRECIST has been developed by consensus, and the relationship with prognosis has not yet been validated.
Table | Response Criteria Comparison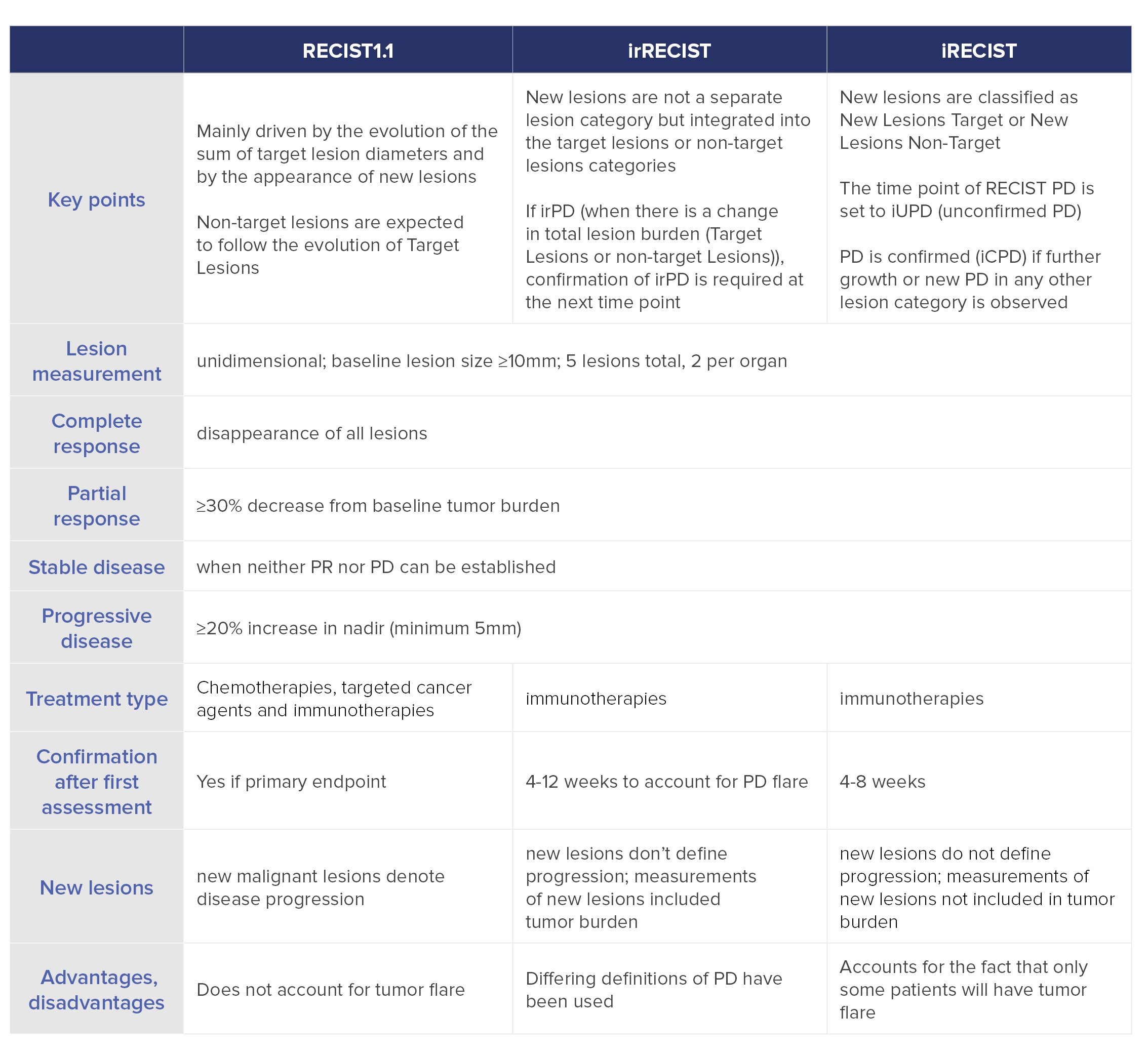 Incorporating RECIST into Imaging Trials
How are RESCIST 1.1 and related criteria incorporated into clinical trials? Image analysis software and centralized reads are increasingly becoming an important part of capturing the response of a tumor to a treatment – whether it be a chemotherapy or an immunotherapy. Specialized imaging CROs have an increasing role here. These processes all help ensure all images are read uniformly and consistently, minimizing inter-/intra-reader variability and the potential for bias and imaging-related queries.