Monitoring reader performance is crucial in clinical trials as reader variability can create inconsistencies in clinical trial data and lead to misinterpretations of drug efficacy. To keep variability as low as possible and allow for early identification of potential issues, reader-specific performance — including adjudication rates and inter- and intra-reader variability — should be monitored throughout the course of a trial.
With this goal in mind, Keosys is pleased to announce the latest update of Imagys (Version v2.19) including high-level supervisory tools to monitor reader performance metrics in real-time.
"The FDA recommends ongoing management of reader performance during trials," said Pierre Tervé, Chief Scientific Officer at Keosys. "Until now, our scientific department analysed reader performance only at specific times. Deciding on optimal times proved challenging, and the evaluation itself was time consuming. Thanks to our developers, we now have tools for automatic calculations of reader performance metrics on an ongoing basis."
Adjudication Rates, Reader Success Rates, Reading Errors, and More
Imagys' dedicated scientific dashboard provides detailed information on the performance of central readers. Metrics are based on the total number of visits and total number of subjects read. Adjudication rates, reader success rates, reading errors, and more are all updated in real time and all available in one place, 24/7. When cases are adjudicated, all relevant visits are listed along with the cause for adjudication, comments from the adjudicator, and reading errors, if any.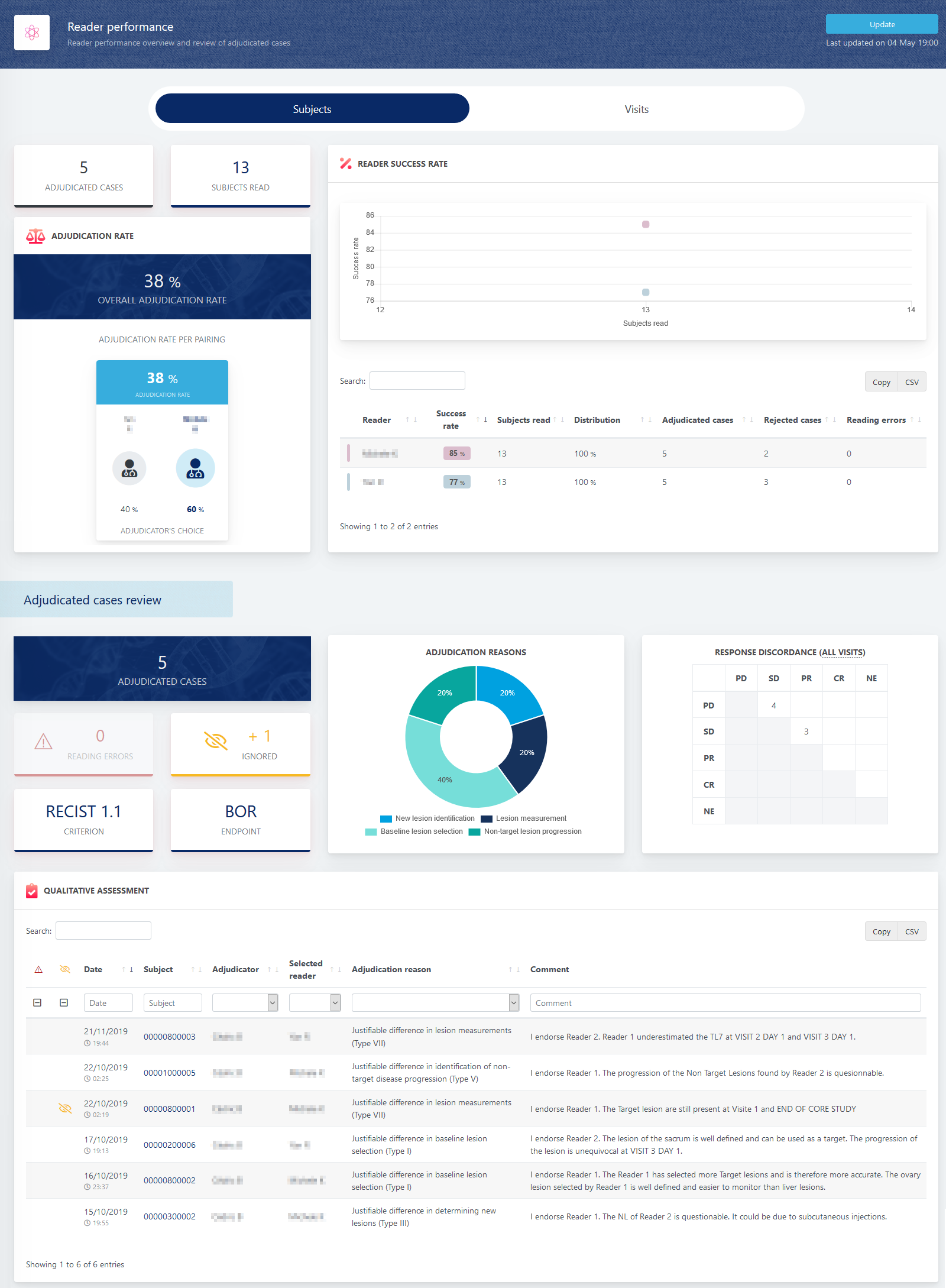 "This is only the beginning," said François Patron, Chief Technological Officer at Keosys. "We will continuously upgrade this workspace to meet the needs of our clients. Reading rules change from trial to trial and we want to provide our scientific department with useful, accurate, and powerful information provision tools to monitor central reads for every kind of study."
Other Improvements Also Distinguish Imagys 2.19
The scientific dashboard is not the only new feature introduced with Imagys 2.19. Designs have been improved and reading abstracts updated to include more precise information. The goal? To reduce human error, and thus flaws in the clinical data.
Data management is essential at Keosys and software development is one of our key means of guaranteeing constant data quality and integrity for our clients.