This is an excerpt from Keosys' free eBook, "The Non-Expert's Guide to Clinical Imaging." To access the full eBook, click here.
In oncology trials, imaging has long been used to assess whether patients have had a complete or partial response to therapy, or if the disease is not responding or progressing. As imaging technologies advance to reveal increasing levels of cellular and molecular detail, so do the criteria that readers are looking for when they interpret an image. Back in 2000, the Response Evaluation Criteria in Solid Tumors (RECIST) criteria were first developed based on World Health Organization guidelines published in 1981. RECIST has since been used extensively as an endpoint in clinical trials and has paved the way for approval of many of today's cancer treatments.
In 2009, RECIST was revised to incorporate some major changes (RESIST 1.1) including reducing the number of lesions to be assessed, and a new way to classify lymph nodes as normal or pathological. But as we learn more about cancer subtypes and develop new classes of drugs to treat them, these criteria have been further adapted to work for specific disease subtypes or for emerging new classes of treatment.
RECIST was designed to show tumor shrinkage in response to cytotoxic drugs and does not address other measures such as tumor cell viability (i.e. the proportion of tumor cells that are living and able to grow). After researchers found that clinical symptoms did not match conventional treatment response criteria in hepatocellular carcinoma (HCC) treated with targeted drugs, a new HCC-specific metric was devised that measures the viable tumor tissue using contrast-enhanced imaging techniques (mRECIST). Tumor size alone also does not accurately reflect response to treatment in gastrointestinal stromal tumors (GIST), and so the Choi criteria were developed that take additional parameters such as tumor vasculature into account.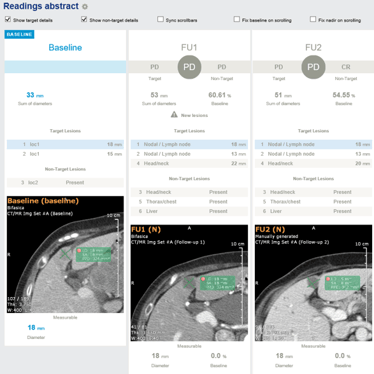 More recently, with the breakthrough of immunotherapy, it again became clear that conventional signs of progression on a CT scan with RECIST weren't matching up with patient outcomes – a phenomenon known as pseudo progression. This has led to new criteria – still in development – to better reflect the clinical features of immune treatment response. In irRECIST and irRC, the length of new tumors is added to that of baseline tumors, to more accurately reflect genuine disease progression⁴.
In addition to modifications of existing radiological assessments, other disease-specific criteria have been developed thanks to advances in imaging. In Hodgkin and non-Hodgkin lymphoma, fluorodeoxyglucose (FDG) positron emission tomography (PET)–computed tomography (CT) was formally incorporated into standard staging for FDG-avid lymphomas (the Lugano/Cheson criteria). The introduction of anti-angiogenic treatments for brain tumors also led a small group of researchers to begin the Response Assessment in Neuro-Oncology (RANO) initiative, which led to new RANO criteria for assessing response to treatment in glioblastoma and lower grade astrocytoma.
As more advanced imaging approaches become available, the use of composite criteria using readouts from more than one imaging method alongside clinical information is likely to increase. Imaging endpoints are likely to be more important in the clinical assessment of new therapeutics than ever.