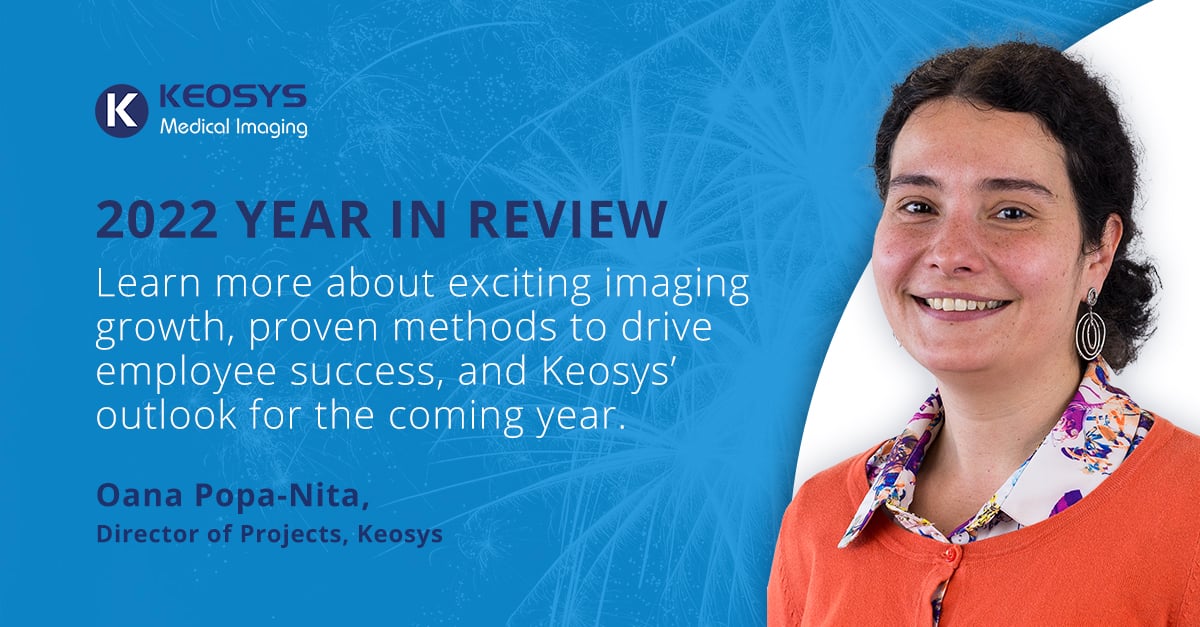 2022 is coming to a close, and it's a great time to reflect on the
important
events of the past year. New
and exciting medical imaging innovations
were a highlight
for Keosys
, of course, but we also
took
critical
steps to
gr
ow
our team
and creat
e
new processes to encourage growth in the coming
years.
To
discuss
these exciting updates, we caught up with our Director of Projects, Oana Popa
-
Nita.
In her
role,
Oana
manages all of the project managers and study coordinators
.
In
November, sh
e
celebrated
her tenth anniversary of working at Keosys!

Q: If you had to summarize Keosys' year in one word, what would it be? Why?

OPN: "
Empower
."
W
e did a lot of brainstorming
this year,
and we set up a lot of
specific tools and trainings to
give people
confidence and render them autonomous.
As an imaging CRO, Keosys is the
subject matter expert
s
in the clinical trials we are managing
and we worked to equip our teams so that
they are experts in the field. Our
project managers
drive the
image
-
related solutions and implement the
processes and workflows according to study timelines and
budgets
.
O
n a more personal note,
em
powering the team
has
taught me to delegate some of my tasks so that
they
can
do more and more by themselves.
Q: Can you tell us about any exciting projects your team worked on this year? How will these innovations affect imaging in clinical trials going forward?

OPN: We are currently managing two studies that are developing radiopharmaceuticals in prostate cancer. We are also managing two Phase III studies with inflammation pathway inhibitors in multiple sclerosis. Something else that really is exciting is a new radioactive tracer that is able to distinguish between Parkinson's disease and essential tremor.
These studies will help drive earlier diagnoses for more efficient and targeted treatments.
Q: What challenges did your team face in 2022? How did you overcome these hurdles?

OPN: We noticed a slowdown in investigator site activation and patient recruitment. The geopolitical situation maybe had an impact on sites in Ukraine and Russia, and some supply chains were also affected. So, we had to be very flexible to quickly train backup investigator sites and onboard other imaging facilities. That was the most important challenge we had to deal with.
One challenge is when we work with sites that have a very heterogeneous way of acquiring images at the beginning, so we have to put them all on the same page to ensure quality. When you have a slowdown in patient recruitment, clients are not happy about losing patients because their images are not acquired in the right way. You need to make sure that every image is readable and exploitable, so we worked closely with clinical CROs to onboard new sites to make sure we don't lose images at sites.
Q: The project management team doubled this year under your management. How did this come to be,
and how has it affected project outcomes?
OPN: We were managing a lot of clinical trials, but also wanted to keep improving our processes and our products. So, the manpower had to be adjusted accordingly. We got lucky that we found the right
people right away from different complementary backgrounds.
So, the workload diminished and the quality increased. It's very positive because new people have new viewpoints and ideas. They will ask why things are done that way, and if your answer is "Because we always did it like that," that's not a good answer. Each person has something to teach us and their previous experience is very useful for our work.
We did two main things that helped our onboarding process. We did "Live My Life" trainings where a new employee spends one day with someone in another department so they can understand how they work and what they need from the project managers. We also assigned a reference person to each newcomer as a mentor. They guide newcomers throughout their first three months to answer
professional questions or personal questions, because we had people that came from other cities and
other backgrounds.
Q:
What can we expect from Keosys in 2023?

OPN: Since we are now allowed to travel, you can expect us to be more present at scientific meetings and congresses. We would like to go and meet our clients more often, like we were doing before COVID-19.
If you were to ask me, I would say the word for 2023 will be "journey". Not just traveling, but really working together. It's a young team—if you look at the age of the people and the time that they've spent at Keosys. It's a journey to progress with team building, innovation, and client satisfaction.
OPN: We are proud of what we are doing. Through our hiring process and company growth, we talked to a lot of people that applied. Innovation in clinical care motivates people. People came to work for Keosys even though they could have had better financial advantages in other industries, and we're all
motivated to work to improve patient treatment and outcomes. That makes you proud at the end of the
day, and you feel like you will make a difference.
We once again come back to "empower". Our employees really feel that they can participate in Keosys' development and, since we are a mid-size company, we are touching on several subjects so their expertise can also grow.
We loved working with you in 2022, and we're excited to continue our impact in 2023.
Do you need medical imaging assistance in the coming year?
Contact us today
, and let's get started.