The world of research and clinical trials moves fast but technology goes faster. Since its early days, Keosys has always been focused on being a leader in imaging services and on developing unrivalled solutions to support our clients in an ever changing field.
Today Keosys is glad to announce its latest software release: lMAGYS 2.18. Our software development team has been working tirelessly to not only optimize user experience but also deliver customer-driven enhancements and features.
The end result: better transparency, control & quality for sponsors and CROs.
The Origin Story
IMAGYS is an advanced workflow management tool used to share imaging data quickly within a complex regulatory framework. It was first developed to face the increasing number of players involved in international clinical trials and the growing amount of data being shared. IMAGYS allows all stakeholders to stay connected and informed throughout the trial on a global scale. Every step in the trial process from image acquisition at the investigational site to the independent central review is managed via this unique web-secured software.
Our internal R&D teams continuously develop and adapt the platform to meet the needs of sponsors and Clinical Research Organisations (CRO) across the globe releasing frequent updates & upgrades.
"We started working on this release back in 2017" says François Patron, Chief Product Officer at Keosys. "Project managers are always coming up to us with ideas for improvements but what they wanted back then required the initiation of a large scale long-term project involving all teams at Keosys".
There were internal debates and a few challenges along the way, but the finish line has finally been crossed and François is confident that users will be delighted with this new release.
A Software Designed for Transparency
Keosys is a customer-focused company. Honesty and transparency are at the heart of what we do every day.
"We wanted to give sponsors and CROs greater access to our platform. With IMAGYS 2.18, users now have access to their own dashboard giving them full visibility & transparency on project status as well as real-time, read only access to relevant study images" says Project Manager Thomas Rolain.
Sponsors and monitors are provided with a complete overview of trial progress. All subjects and visits added to IMAGYS as well as their status in the study can be examined by them at any time during the trial.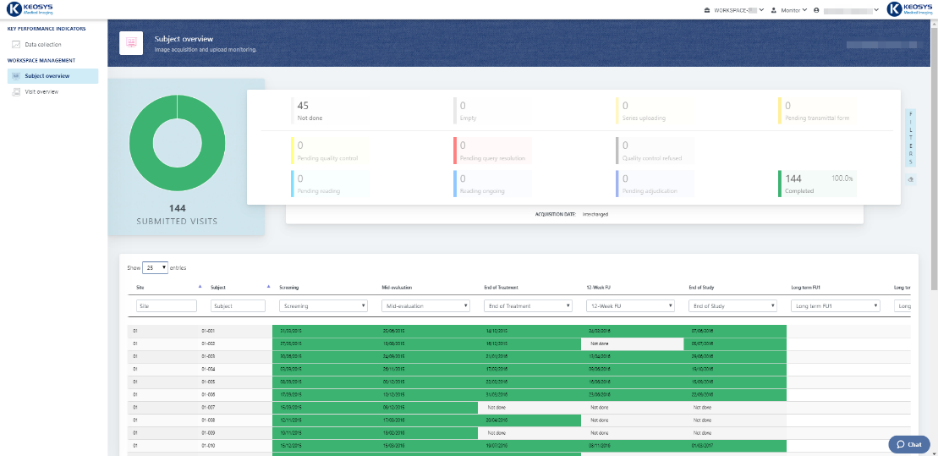 Key Performance Indicators for Perfect Study Control
As a sponsor or a CRO, you need to be able to evaluate the progress of your trial:
Have the investigational sites uploaded the scheduled exams? How long does it take for a visit to be centrally reviewed?
Project Manager Laura Lebeau promises that with the new Key Performance Indicator (KPI) feature, you will be able to monitor every step in your study.
"Sponsors have been regularly asking for additional KPI reports. Now, not only will we provide detailed metrics but users will also be able to view them 24/7 on IMAGYS"
KPIs have been designed to monitor image upload, quality control, central reviews and more. Delays can now be proactively managed reducing the risk of workflow interruptions. Accurate numbers & turnaround times are updated hourly and results are accessible via IMAGYS from anywhere in the world.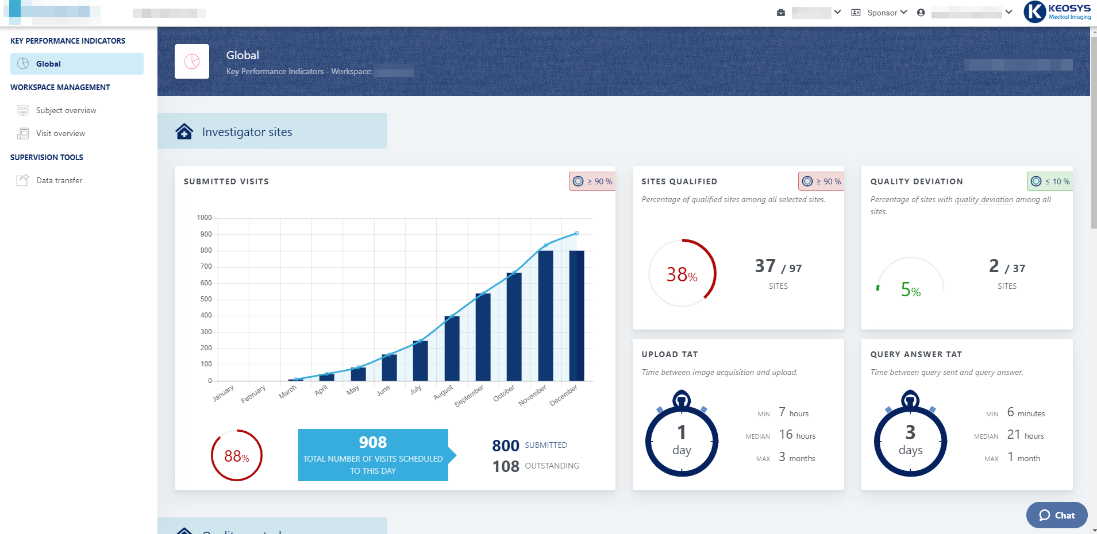 An Improved Interface for a High Quality Experience
Keosys is constantly looking to enhance user experience. With IMAGYS 2.18, a new interface has been introduced.
"We always try to avoid overwhelming people with settings and menus. We want our users to be able to use the platform smoothly and effortlessly" says Software Engineer Romain Bénéteau.
The menu has thus moved from the top to the left side for greater consistency across all pages. This action allowed for better usage of icons to increase readability. But it's much more than a new look. With its new responsive design, IMAGYS can now dynamically adapt its layout and behaviour to your screen size for optimized use.
What Does the Future Hold?
2020 will be an exciting year for Keosys as we will be approaching our 20th anniversary.
We will primarily be focusing on the implementation of new read criteria in our software. As new therapies are developed, new disease responses are observed. Central readers need to use modified read criteria for their assessments. And as the rules of the game change, Keosys software development team ensures that IMAGYS changes with them guaranteeing that we will always be able to provide central reading support when needed.
Our research team constantly working on making our software more efficient will also take the spotlight this year representing Keosys at conferences worldwide. They will be showcasing their work on the use of artificial intelligence to detect cancer lesions. Take a look at their work on kidney tumors in our previous blog post: https://blog.keosys.com/ai-in-medical-imaging-the-kidney-tumor-segmentation-challenge
However, the main event of 2020 comes this month. Keosys will be holding FREE demonstrations of the new features on the IMAGYS platform via web conference on:
January 28th at 2pm CET
January 30th at 5pm CET
Book your spot today to discover our latest features by clicking on this link