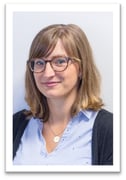 Lauren Pennock is a Business Developer managing the European market. She has been working with Keosys since 2018.
"All aspects of a clinical trial need to be carefully planned and choosing an imaging CRO to manage your medical images is no different."
Tell us about Keosys and the sales team.
Keosys is an imaging CRO. We currently have two offices: our headquarters, situated in Nantes, France and our second office in New-York.
Our on-hand business developers cover all major territories, providing biopharmaceutical companies, Clinical Research Organizations (CRO) and academic institutions with medical imaging solutions adapted for their clinical research projects.
Throughout the year our sales team travels far and wide to take part in some the largest health congresses such as ASCO, BIO and ESMO and meet biotech and pharma companies alike to help them with their medical imaging needs.
What should a sponsor look for in an Imaging CRO?
In today's world, there are so many imaging techniques that are rapidly changing, therefore, it is important to select your imaging vendor based on their ability to handle the requested imaging modalities and to make sure they've got experience in the indication area you're working in.
Another important factor is for sponsors to understand the imaging CRO's technical capabilities. For example, does the imaging CRO use an integrated system or is your clinical team going to have to use several software? Is it their own system or do they rely on a third party for certain aspects? Do they have full control over their system? If they do not use their own system, can you be sure they will address your needs and queries as quickly as possible? That's a lot to think about so be prepared!
What advice would you give to a sponsor starting a trial?
For me it's all about timing and organization! All aspects of a clinical trial need to be carefully planned and choosing an imaging CRO to manage your medical images is no different. Depending on the complexity of your clinical study, this could take months. It's crucial that the sponsor has a clear idea of the type of study they plan on running. Only then will they know what services they require: Simple archiving of images or central analysis? Many stakeholders are involved in a clinical trial and the quicker you get in contact with an imaging CRO the better. Additionally, having an imaging CRO involved from the start also helps build a solid lasting relationship because it will feel more like a partnership than a simple business contract. Indeed, imaging CROs can play the role of consultant if the sponsor is unsure and needs guidance.
It's crucial that the sponsor selects an imaging CRO that's the right fit for them so don't forget to have a bid defense or at least request a demonstration of the software used. You'd be surprised by the number of sponsors who miss this step to make their decision. Even though imaging can be a small part in the overall trial it's still a key element and the selection of the imaging CRO shouldn't be taken lightly.
What differentiates Keosys to other imaging CROs?
For me, Keosys is the ideal imaging CRO for numerous reasons. First, technology has always been at the heart of what we do. Right from the word go we have provided our customers with tailor made services adapted to suit their needs and this will never change! Whether you're running an early phase project or a full-scale international trial, we've got your needs covered!
Our Imagys platform and our web-based imaging reading software were made in house. We do not rely on any third parties for the set-up and management of our service offerings, and our skilled developers and IT technicians are always on hand to answer your enquiries.
Our medical experience and scientific knowledge is also, in my opinion, a key differentiator. We have a vast history working on Oncology clinical trials in various indications.
What is the imaging landscape looking like for the end of the year?
That's an interesting question. I do not see the imaging landscape changing radically for the end of the year. I think it will remain geared toward developing existing and novel imaging techniques for early disease detection and treatment for cancer and rare diseases alike.
I think we can expect to see continual growth in technologies such as Artificial Intelligence, Intraoperative imaging, which, for example, gives surgeons better guidance during brain tumour removal operations. Virtual Reality and 3D Imaging also seem to be trending, this gives doctors a more realistic and detailed view of the human anatomy.
The use of automatic segmentation combined with deep learning methods is appearing more and more. Used to help doctors reduce time spent detecting lesions and helping to eliminate human error, this method also reduces inter-reader variability in clinical trials.
Something else, a little different but just as important as the others is wearable technology, watches, bracelets, portable brain scanners.
To sum up, for me, the imaging landscape will continue to have the patients' interests at heart, resulting in faster and more accurate treatments for all.
The future is bright!