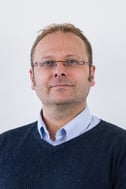 Pierre-Olivier Desmoulins is a Senior Clinical Trial Project Manager with 20+ years of experience in the pharmaceutical industry. He has been working with Keosys since 2015.
"A huge part of my job is now dedicated to guiding and giving advice to clients when it comes to imaging."
How would you describe Keosys to someone outside of the company?
Keosys is a specialized Imaging CRO. We deliver imaging services to our clients ranging from small biotechs to big pharmaceutical companies.
Our core business is oncology & nuclear medicine trials, but we have also worked in other areas such as neurology or dosimetry. To manage our trials, we use an end-to-end in-house developed imaging platform and work closely with a worldwide network of imaging experts.
From a human perspective, I have been with Keosys for several years and it is a great company to work for. We are a human-sized company making it easy to build excellent relationships between teams.
What is it like to work in imaging as a clinical trial project manager?
Our role is not so different from a standard "clinical trial project manager". In imaging, we still need the same skill set: proactive mindset, leadership, being able to work with multiple teams in a fast-paced and sometimes stressful environment, etc.
As I'm working for a CRO, I also need to be business oriented. It is important that the sponsor feels heard and that we meet their needs.
Cementing long-term relationships with sponsors while keeping full independency in the management of imaging data is another key part of the position. It was quite new for me when I started at Keosys as before I was on the other side! A huge part of my job is now dedicated to guiding and giving advice to clients when it comes to imaging.
As a CRO project manager, I also must commit to the study budget and limit costs as much as possible. You must get very creative sometimes and it can be challenging, but I enjoy looking for solutions to keep budgets on tracks.
And tell us more about the project management team?
We are a mix of senior & junior clinical trial managers and study coordinators. Depending on the project, there can be one or two project managers assigned to a project and there is always a back-up planned to cover for a project manager if they are off sick or on holiday.
Most of the team has been at Keosys for several years, some even started at junior levels and rose through the ranks!
What are the biggest challenges you're faced with in your role?
I would say that a big challenge is when Keosys needs to centrally confirm imaging eligibility and there is discordance with site assessment - which might happen from time to time. It's always frustrating for investigational sites to see the patient they want to enrol in a trial isn't eligible according to the independent central review. This can also cause some frustration for the sponsors. In these situations, we ask the independent central reviewers to clearly and thoroughly explain why in their medical expertise the patient is not eligible. This helps a lot when discussing the cases with the site and sponsor.
A similar challenge is when we must refuse images because they are not of the appropriate quality for central review. This means that not only the sponsor might lose some information but also more importantly, that a patient who could benefit from a treatment might not be enrolled in a trial. Fortunately, this does not happen very often, thanks to our experience and the many mitigation measures we have implemented.
Working in an environment where regulation (especially on data protection) evolves at a fast pace is also challenging at times. What was correct one day might reveal not compliant a few months later. It's necessary but sometimes you can lose track and thankfully we have an internal regulatory team managing this and training us when necessary.
And your biggest achievement?
I'm actually very proud that we can always provide novel services to clients when requested. It is always a challenge to delve into new territories like when we first started managing dosimetry trials, but we've always succeeded, thanks to commitment of all teams involved.
I also want to say a few words on the Covid-19 outbreak. Within the first couple of weeks of the lock-down, we adapted our Business Continuity Plan and proposed some workarounds to our clients to maintain imaging activity during these tough times. Although I would not classify this as a big achievement (everyone did the same), I'm still proud of our teams and of Keosys' proactive mindset.
What advice would you give to a sponsor starting a trial?
Many sponsors do not really have a good command of imaging specificities. Because of this, I would say "think ahead". If there is imaging in your clinical trial, contact your imaging CRO early in the process. Their expertise can prevent problems that might occur later during the trial.
And don't forget to audit your imaging CRO. This might sound basic, but a well-conducted audit can reveal both strengths and weaknesses and allows for a sound choice of your imaging CRO.
Thirdly, ask for a demonstration of the imaging product. This will give you an actual insight on how imaging activities will be performed on the field: how do sites upload images? how are queries managed? How are central reviews performed etc.
I would conclude by saying you need to adapt the choice of your imaging vendor to your strategy as this is a significant cost in any trial budget. Each imaging CRO has different strengths and expertise and these may not always be related to their size. For example, you might think big companies lack proactivity due to their size, but they can reveal actually quite flexible and willing to adapt to your needs. And on the other hand, you may believe a small company is not the best to manage large trials but actually is because of their technology and the relationships they build with CRAs and sites. So no preconceived notions, and never be afraid to try something new!